Where are You Wondering?
Discover Wonder Hotspots nearby and join!
EXPLORE WONDER HOTSPOTS
Wonder with Olivia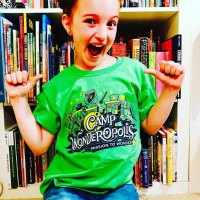 Student Wonder Ambassador
TheLivBits
Always be on the lookout for the presence of WONDER!E.B. White
This back to school blog post is for the teachers of my little sister, Charlotte. On August 31st, she will start kindergarten. Since I won't be at the school where Charlotte is going, I thought I would write a list of "Char-isms" for her teachers, in case they need help while I am not there because let's face it, she IS sort of a handful. Hehehehehe!
View all blog Posts
What Are You Wondering?
Join in the Wonder Creation
Make YOUR wonder a wonderful reality!
...Questions in the Wonder Bank and counting! Here are the latest...
Latest from the Wonder Bank
Why Do We Wonder?

Lily

what is a pangolin?

Ibrahim

what is the point of life

Misss

do sugar gliders really bark?

jadyn

If people can't see air, can fish see water?

Lori

why is school a thing?

lewkus

What is the best strategy for chess?

caleb

Who was the greatest emperor ever

Max

When will the world end?

Olivia

The history of stop motion.

Lily

who is the best hockey goalie in the NHL?

ahser

when will the world end???

Hannah

How Do Trees Produce Paper

Brian

who invented the alphabet

Rama

why are laydybugs red

Shawna

What is math

Ella

why do we go to school five days a week instead of seven

Owen

Why Do We Get Annoyed?

Sabrina

who is the craziest person in the world

carter

How did Amelia Earhart die?

LILA

how fast can a tiger go

LILA

What is the amount of time that an average person is on electronics?

Chelsea

is god real

haileigh

Why are kids mean to there parents

Deasia

is water wet?

sebby

Is the Earth completely round?

Ava

What is best police stashions

jovian

why do people poop

sally

what is the most isolated planet in the galaxy?

Adriel

Who has the strongest army in the world?

Ty
View all questions in the Wonder Bank
Top Nominated Wonder Questions:
+7625

how was water created

Chiamaka

+7170

Do girls remember their dreams more often than boys and if yes, why?

Lance — Louisville, KY

+5682

Can you mix water and air completly?

AL

+58

Why do Olympians bite their medals?

Sam — Glen Allen, VA

+46

How does weeds grow?

Rafiul — Sydney, AL

+38

How many animals are on earth?

helaina — clearwater, FL
Vote for wonder nominees
Spread the Joy of Wonder
GET YOUR WONDER DAILY
Subscribe to Wonderopolis and receive the Wonder of the Day® via email
Share with the World
Tell everybody about Wonderopolis and its wonders.
Wonderopolis Widget
Interested in sharing Wonderopolis® every day? Want to add a little wonder to your website? Help spread the wonder of families learning together.
Add widget
Wonderopolis Partners & Sponsors