Where are You Wondering?
Discover Wonder Hotspots nearby and join!
EXPLORE WONDER HOTSPOTS
Wonder with Olivia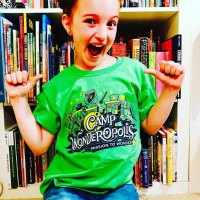 Student Wonder Ambassador
TheLivBits
Always be on the lookout for the presence of WONDER!E.B. White
This back to school blog post is for the teachers of my little sister, Charlotte. On August 31st, she will start kindergarten. Since I won't be at the school where Charlotte is going, I thought I would write a list of "Char-isms" for her teachers, in case they need help while I am not there because let's face it, she IS sort of a handful. Hehehehehe!
View all blog Posts
What Are You Wondering?
Join in the Wonder Creation
Make YOUR wonder a wonderful reality!
...Questions in the Wonder Bank and counting! Here are the latest...
Latest from the Wonder Bank
do sharks drink

jesse simpkins

what is the meaning of life

Raymond King

why do we go to school

Casen Hollifield

Who is Kanye West?

Greatest Ever

why do cats and dogs not get along

Kevin Conway

why do sharks attack

parker stacy

How are Tesla's made?

Quinton Rivera

why do they not let you in area 51?

milosz michniewicz

what is area 51

lexi poor

What is error 404?

Kimberly Robinson

what is the meaning of life

asdf asdf

What's makes a Banana a berry?

Sydney R

what is the biggest basketball in the world

Amanda Fowler

How do snakes develop venom?

Briana Robinson

Was math discovered or invented

Rafae Yusaf

What made people fasinated about nonnative species

Kaleb Cooper

why are some people smarter than others

eva goubeaux

What happens when we die

Agampreet Sarn

who made god

Airryanna chavez

who made nailpolish

Airryanna chavez

Is your thumb considered a finger?

Mallory Clark

How does insulation work?

Fifi Laing

Who Invented Hair Dye?

Fiona Laing

What would life be like if we lost WWI?

Billy Lopatto

how do you know when should have a boyfreind

rebbeca shoty

when will we run out of oxygon

lucy shooshkobob

what was the first animal discoverd

mylife shooshkobob

wy are strabareys red?

Elizabeth lezli

what does the fox say for real

Andrea shooshkabob

how is poop made

andy shooshkobob
View all questions in the Wonder Bank
Top Nominated Wonder Questions:
+5210

What will school be like in the future?

Meghan Pohl

+4543

How do you get into a bad habit?

Aeden DeGraw

+4277

how was water created

Chiamaka

+3610

Why does at low atomic pressure water boils faster?

pradyumna behera

+3551

Why did dinosaurs become extinct

Adela Campello

+2941

Can you mix water and air completly?
Vote for wonder nominees
Spread the Joy of Wonder
GET YOUR WONDER DAILY
Subscribe to Wonderopolis and receive the Wonder of the Day® via email
Share with the World
Tell everybody about Wonderopolis and its wonders.
Wonderopolis Widget
Interested in sharing Wonderopolis® every day? Want to add a little wonder to your website? Help spread the wonder of families learning together.
Add widget
Wonderopolis Partners & Sponsors