Where are You Wondering?
Discover Wonder Hotspots nearby and join!
EXPLORE WONDER HOTSPOTS
Wonder with Olivia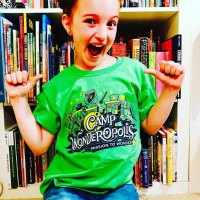 Student Wonder Ambassador
TheLivBits
Always be on the lookout for the presence of WONDER!E.B. White
This back to school blog post is for the teachers of my little sister, Charlotte. On August 31st, she will start kindergarten. Since I won't be at the school where Charlotte is going, I thought I would write a list of "Char-isms" for her teachers, in case they need help while I am not there because let's face it, she IS sort of a handful. Hehehehehe!
View all blog Posts
What Are You Wondering?
Join in the Wonder Creation
Make YOUR wonder a wonderful reality!
...Questions in the Wonder Bank and counting! Here are the latest...
Latest from the Wonder Bank
what is tornado alley

terry

how do people make games

Jeramiah

how dose a butterfly survive

shaye

How did people make computers?

Logan

how come hoomans rule the world?

Taylor

How did we make games?

Logan

how does the uneverse expand

Joey

why do people have depression these days

Aidan

What if the moon dissappered

Leland

Will Earth ever die?

Taylor

How old is God

Dylan

Why is ocean water blue?

Leland

How many animals in total live on Earth?

Taylor

how many people in the world love boston terriers.

cooper

what is the sun dial right now

jacob

why do we need cops

loukas

Why can microwaves not cook?

Diego

Do shelters feed cats the right shelters

Wilmer

What is the science behind Yanny Or Laurel?

Maile

who invented video games?

Jorge

How can you make money faster for 10 year olders?

Carmine

who is yoodling kid?

anne

how did teachers get their name

jordan

Is it bad if your tooth gap is more than 5 feet?

Holdon

Are Xbox's better than Ps4's?

Karlo

are monsters real

Takumi

Have you ever ate a fish taco?

Newell

can you touch the rainbow

Charles

why are cucumbers so scary to cats

diego

why is school so hard?

diego
View all questions in the Wonder Bank
Top Nominated Wonder Questions:
+8534

how was water created

Chiamaka

+8377

Do girls remember their dreams more often than boys and if yes, why?

Lance — Louisville, KY

+6464

Can you mix water and air completly?

AL

+58

Why do Olympians bite their medals?

Sam — Glen Allen, VA

+46

How does weeds grow?

Rafiul — Sydney, AL

+38

How many animals are on earth?

helaina — clearwater, FL
Vote for wonder nominees
Spread the Joy of Wonder
GET YOUR WONDER DAILY
Subscribe to Wonderopolis and receive the Wonder of the Day® via email
Share with the World
Tell everybody about Wonderopolis and its wonders.
Wonderopolis Widget
Interested in sharing Wonderopolis® every day? Want to add a little wonder to your website? Help spread the wonder of families learning together.
Add widget
Wonderopolis Partners & Sponsors