Where are You Wondering?
Discover Wonder Hotspots nearby and join!
EXPLORE WONDER HOTSPOTS
Wonder with Olivia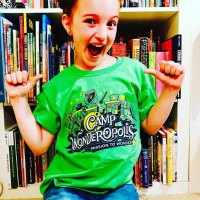 Student Wonder Ambassador
TheLivBits
Always be on the lookout for the presence of WONDER!E.B. White
This back to school blog post is for the teachers of my little sister, Charlotte. On August 31st, she will start kindergarten. Since I won't be at the school where Charlotte is going, I thought I would write a list of "Char-isms" for her teachers, in case they need help while I am not there because let's face it, she IS sort of a handful. Hehehehehe!
View all blog Posts
What Are You Wondering?
Join in the Wonder Creation
Make YOUR wonder a wonderful reality!
...Questions in the Wonder Bank and counting! Here are the latest...
Latest from the Wonder Bank
who created the moon

Ella

Do humans really super powers

Hailey

what is the most fast sports car

landon

what is life

king

how isbaby made

jailyn

who made time

alyssa

Why do you have to go to school to learn

Piper

Why is a bank called a bank

Elliot

Why are people afraid of wolves?

Sophia

how does medicine help you ?

Amara

Why are all the colors in the rainbow

Bayley

why is high school called with high school

Elliot

what whappens when you die?

jailyn

what is micraft

Halie

What hogwarts house are you in?

Ally

Why is Roblox so Awsome

Elliot

Is christopher robin worth watching?

Alina

how is earth made

lee

why am i here

lee

WHY DO YOU GET ANGRY WITHOUT CHOCOLATE?

Akul

Ann Frank

Grace

Why do snakes hiss

Mylee

Are there boy ladybugs?

Nicolas

What happens when we die

Xavier

how was the galaxy created

Javier

How was space made?

michael

What is the purpose of life?

Xavier

what is memory foam made out of.

lily

how was the world created

michael

is fortnite awesome

keegan
View all questions in the Wonder Bank
Top Nominated Wonder Questions:
+9798

Do girls remember their dreams more often than boys and if yes, why?

Lance — Louisville, KY

+8961

how was water created

Chiamaka

+7000

Can you mix water and air completly?

AL

+58

Why do Olympians bite their medals?

Sam — Glen Allen, VA

+46

How does weeds grow?

Rafiul — Sydney, AL

+38

How many animals are on earth?

helaina — clearwater, FL
Vote for wonder nominees
Spread the Joy of Wonder
GET YOUR WONDER DAILY
Subscribe to Wonderopolis and receive the Wonder of the Day® via email
Share with the World
Tell everybody about Wonderopolis and its wonders.
Wonderopolis Widget
Interested in sharing Wonderopolis® every day? Want to add a little wonder to your website? Help spread the wonder of families learning together.
Add widget
Wonderopolis Partners & Sponsors