Where are You Wondering?
Discover Wonder Hotspots nearby and join!
EXPLORE WONDER HOTSPOTS
Wonder with Olivia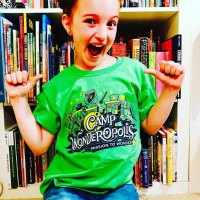 Student Wonder Ambassador
TheLivBits
Always be on the lookout for the presence of WONDER!E.B. White
This back to school blog post is for the teachers of my little sister, Charlotte. On August 31st, she will start kindergarten. Since I won't be at the school where Charlotte is going, I thought I would write a list of "Char-isms" for her teachers, in case they need help while I am not there because let's face it, she IS sort of a handful. Hehehehehe!
View all blog Posts
What Are You Wondering?
Join in the Wonder Creation
Make YOUR wonder a wonderful reality!
...Questions in the Wonder Bank and counting! Here are the latest...
Latest from the Wonder Bank
facts about giant pandas

charlize STEVENS

when was football invented

kole brock

WHAT ARE APPLES MADE OF

KYLIE KIRKPATRICK

Why do teachers not like google

shiloh sumner

What are the most rare guinea pig breeds?

Maya M

how do you make bath bombs

Gracie Adams

what was the first religon

Gracie Adams

what do buddhists belivie in

joshua chiwuike

Who puts content on Google?

Gabby Brueck

can you clone yourself?

bob jackston

How did cotton candy get it's name?

Ms. Goodwin

How was the first person born?

kayla romanowski

how are seashells made

Amanda Floyd

I am wondering how much sugar it would take to bake a 20 pound cake.

Macy Smith

How do emails send wirelessly?

Meagan Moss

What is the first language to be created?

Sumanth Jonnadula

How do people now alot about gods

Sumanth Jonnadula

how do we think

Ash Lomax

who am i

Elijah chapman

Why is the sky blue?

Amber Leggett

What happens when cornstarch and water mixes together

Sumanth Jonnadula

who created soccer

sfansmnjjjjjjjj hftftgchcfgh

How do snake fangs work?

Corbin Tones

what is my name

Jocia chapman

HOW DO YOU START A YOUTUBE CHANNEL

Adenn Korm

Why do we eat food?

Kool Popsickle

Why does cheese taste so good?

Kool Popsickle

does gum have less mass when you chew it

jillian Friedman

How many possums are left.

Juliette Timmons

What happens when you die?

Ana Perez
View all questions in the Wonder Bank
Top Nominated Wonder Questions:
+6949

how was water created

Chiamaka

+5745

Do girls remember their dreams more often than boys and if yes, why?

Lance Borden

+5111

Can you mix water and air completly?

+58

Why do Olympians bite their medals?

Sam Hyman

+38

How many animals are on earth?

helaina quick

+35

Why does a slinky get tangled so easily and is so hard to untangle?

Terry Duff
Vote for wonder nominees
Spread the Joy of Wonder
GET YOUR WONDER DAILY
Subscribe to Wonderopolis and receive the Wonder of the Day® via email
Share with the World
Tell everybody about Wonderopolis and its wonders.
Wonderopolis Widget
Interested in sharing Wonderopolis® every day? Want to add a little wonder to your website? Help spread the wonder of families learning together.
Add widget
Wonderopolis Partners & Sponsors