Where are You Wondering?
Discover Wonder Hotspots nearby and join!
EXPLORE WONDER HOTSPOTS
Wonder with Olivia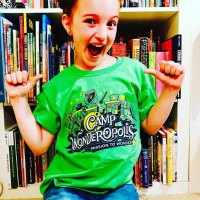 Student Wonder Ambassador
TheLivBits
Always be on the lookout for the presence of WONDER!E.B. White
This back to school blog post is for the teachers of my little sister, Charlotte. On August 31st, she will start kindergarten. Since I won't be at the school where Charlotte is going, I thought I would write a list of "Char-isms" for her teachers, in case they need help while I am not there because let's face it, she IS sort of a handful. Hehehehehe!
View all blog Posts
What Are You Wondering?
Join in the Wonder Creation
Make YOUR wonder a wonderful reality!
...Questions in the Wonder Bank and counting! Here are the latest...
Latest from the Wonder Bank
where does snow come from?

Helen

earthquake

hi

What Are Jellyfish Made Of?

Melia

Why Are People Afraid of Spiders?

Melia

How Does Virtual Reality Work?

Melia

how do we know that there is more than one universe?

Abby

why do we laugh?

Abby

what is a mole lizard

Isaiah

How do you become a child actor?

Katherine

How quick are human brains?

Jayden

How high can a cat fall without dying?

Jayden

What is the most important body part?

Jayden

Why do girls get pink and boys get blue?

maria

How many animals did Adam in the bible have to name?

Jayden

did god make the world?

Jayden

how many galaxies are in the universe

Jayden

What do greeks normally eat

Alex

is it normal for friends to tease each other

Jake

How does a google home proscess infomation

Beti

how does the brain work?

anna

what are the egg shells oviparous animals lay made of?

Alenabell

Why do oranges have juice?

J

Why is fortnite so famous

Max

How are words made, and why are words the way they are?

Logan

How long is a peice of string

Max

Who loves horses as much as me?

Iona

What makes the wind?

Iona

How do projectors work

Lachlan

can kiwis fly?

makaylah

What is the bitcoin equation?

Arthur
View all questions in the Wonder Bank
Top Nominated Wonder Questions:
+8346

how was water created

Chiamaka

+8080

Do girls remember their dreams more often than boys and if yes, why?

Lance — Louisville, KY

+6287

Can you mix water and air completly?

AL

+58

Why do Olympians bite their medals?

Sam — Glen Allen, VA

+46

How does weeds grow?

Rafiul — Sydney, AL

+38

How many animals are on earth?

helaina — clearwater, FL
Vote for wonder nominees
Spread the Joy of Wonder
GET YOUR WONDER DAILY
Subscribe to Wonderopolis and receive the Wonder of the Day® via email
Share with the World
Tell everybody about Wonderopolis and its wonders.
Wonderopolis Widget
Interested in sharing Wonderopolis® every day? Want to add a little wonder to your website? Help spread the wonder of families learning together.
Add widget
Wonderopolis Partners & Sponsors