Where are You Wondering?
Discover Wonder Hotspots nearby and join!
EXPLORE WONDER HOTSPOTS
Wonder with Olivia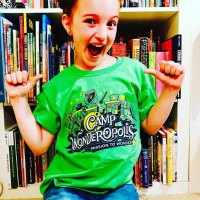 Student Wonder Ambassador
TheLivBits
Always be on the lookout for the presence of WONDER!E.B. White
This back to school blog post is for the teachers of my little sister, Charlotte. On August 31st, she will start kindergarten. Since I won't be at the school where Charlotte is going, I thought I would write a list of "Char-isms" for her teachers, in case they need help while I am not there because let's face it, she IS sort of a handful. Hehehehehe!
View all blog Posts
What Are You Wondering?
Join in the Wonder Creation
Make YOUR wonder a wonderful reality!
...Questions in the Wonder Bank and counting! Here are the latest...
Latest from the Wonder Bank
why is the sky blue

Danyelle

How in the old days the made fires

Bren

why are people color blind

jack

how are babies born

alex

Do animals have dreams

Alexis

IS A TAN JUST A BURN THE SUN LEAVES ON YOUR SKIN?

Scotland

Who invented school

samuel

When where dogs chosen to be a help in police and army work

Emma

What Does All The Months Mean?

Anna

what does the school board do?

Haley

how is cotton candy made?

Harper

iPhone

Jared

What are Monopolies, and how are they caused?

evan

why do chickens lay eggs

kyla

why do wolves howl at the moon

brandonmicheal

why is school called school

elyn

dancing

rhiannah

Why do jacket zippers go up after you dry them

Elias

Why isn't there any xenos on this planet

Xeno

what is clay made of

chandler

WHy is karate so popluar

Akiva

What is in cat food

Hunter

How many planets are in the whole galaxy?

grant

how does it feel to die

Billy

Who made Wifi? how did he/she make it?

Chris

who made chocolate

Chris

why is reading called reading

dakota

How many weeks are there in a year?

Aubrey

how many question have been put in wonderopolis right now

samantha

why is math called math

Hayla
View all questions in the Wonder Bank
Top Nominated Wonder Questions:
+9828

Do girls remember their dreams more often than boys and if yes, why?

Lance — Louisville, KY

+8979

how was water created

Chiamaka

+7012

Can you mix water and air completly?

AL

+58

Why do Olympians bite their medals?

Sam — Glen Allen, VA

+46

How does weeds grow?

Rafiul — Sydney, AL

+38

How many animals are on earth?

helaina — clearwater, FL
Vote for wonder nominees
Spread the Joy of Wonder
GET YOUR WONDER DAILY
Subscribe to Wonderopolis and receive the Wonder of the Day® via email
Share with the World
Tell everybody about Wonderopolis and its wonders.
Wonderopolis Widget
Interested in sharing Wonderopolis® every day? Want to add a little wonder to your website? Help spread the wonder of families learning together.
Add widget
Wonderopolis Partners & Sponsors