Where are You Wondering?
Discover Wonder Hotspots nearby and join!
EXPLORE WONDER HOTSPOTS
Wonder with Olivia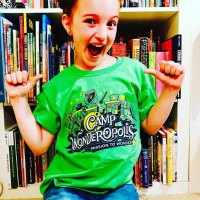 Student Wonder Ambassador
TheLivBits
Always be on the lookout for the presence of WONDER!E.B. White
This back to school blog post is for the teachers of my little sister, Charlotte. On August 31st, she will start kindergarten. Since I won't be at the school where Charlotte is going, I thought I would write a list of "Char-isms" for her teachers, in case they need help while I am not there because let's face it, she IS sort of a handful. Hehehehehe!
Lately, lots of teachers have asked me what my plan is for summer reading. I always think this is a funny question because my MAIN plan is to just READ! Even though my summer is super busy with lots of ballet (I am doing summer intensives in Chicago and NYC), I'll still have lots of time to do what my mum calls lingering around books.
View all blog Posts
What Are You Wondering?
Join in the Wonder Creation
Make YOUR wonder a wonderful reality!
...Questions in the Wonder Bank and counting! Here are the latest...
Latest from the Wonder Bank
Why do people yawn when some one else yawns?

Erin Robinson

Who invented cheese?

Brady Khounlo

were did numbers come from

mackenzie taff

Who is Jake Paul and Logan Paul

Jack B

How do kids grow?

trent walstrom

why is the English the hardest language to speak

logan eubank

Why do transformers change into cars?

sean dahlstrom

what are doors

Nate lloyd

what is what

wassup wassup

what is matter and dark matter

Evan thomas gleason

why are some clouds red?

graham martino

What happens to your body during sleep?

JaKaylee Minor

how do you see the future

jack grossi

where did donald trump come from

jeffy thomas

how was water inventid

Layla Hall

Is Micheal Jackson alive or dead

Neel Patel

why do we need different language's here on earth

madison lawrence

soccer

griffin lecorchick

how to run faster at long distance running

eliazar Uribe

How do dreams work?

Greta _____

who made the first book ever

Ella W

Who invented the NBA2K games?

Vincent Prewitt

What causes syncope?

Ashlyn Karr

Who Invented Chairs?

Claire Mathew

How made the first pizza?

Eduardo Santillan

who is michael jackson?

Joshua Magu

What was the first dog to be tamed?

Jason A

How was Earth created?

Ryleigh Pina

what is a fishes digestive system

Gianna Nelson

How do bones live

Paikea Emmons
View all questions in the Wonder Bank
Top Nominated Wonder Questions:
+4046

What will school be like in the future?

Meghan Pohl

+3632

How do you get into a bad habit?

Aeden DeGraw

+3333

how was water created

Chiamaka

+2883

Why does at low atomic pressure water boils faster?

pradyumna behera

+2673

Why did dinosaurs become extinct

Adela Campello

+2129

Can you mix water and air completly?
Vote for wonder nominees
Spread the Joy of Wonder
GET YOUR WONDER DAILY
Subscribe to Wonderopolis and receive the Wonder of the Day® via email
Share with the World
Tell everybody about Wonderopolis and its wonders.
Wonderopolis Widget
Interested in sharing Wonderopolis® every day? Want to add a little wonder to your website? Help spread the wonder of families learning together.
Add widget
Wonderopolis Partners & Sponsors