Where are You Wondering?
Discover Wonder Hotspots nearby and join!
EXPLORE WONDER HOTSPOTS
Wonder with Olivia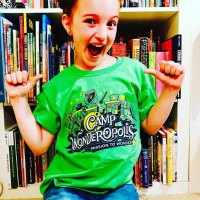 Student Wonder Ambassador
TheLivBits
Always be on the lookout for the presence of WONDER!E.B. White
This back to school blog post is for the teachers of my little sister, Charlotte. On August 31st, she will start kindergarten. Since I won't be at the school where Charlotte is going, I thought I would write a list of "Char-isms" for her teachers, in case they need help while I am not there because let's face it, she IS sort of a handful. Hehehehehe!
View all blog Posts
What Are You Wondering?
Join in the Wonder Creation
Make YOUR wonder a wonderful reality!
...Questions in the Wonder Bank and counting! Here are the latest...
Latest from the Wonder Bank
Can we see sunlight?

Ranjod

Why Fortnite Is The Highest Grossing Game Ever

Esme

Who came up with talking?

Madison

Who really dicovered America

Nick

What is the hardest estimated trick in soccer

Esme

What is hell and the devel

Bruno

why haven't cows been domesticated like horses?

Mia

Are Fairy's Real

Bruno

Why When You Live in a Country You only want to know about it??

Bruno

Is God Real????

Bruno

What do glial cells in the brain look like?

Nicky

Is a thumb a finger?

coral

why was money invented ?

kiellah

who invented the Calculator

sean

who invented bean bags

Alex

where is atlantis

bella

Why can't dogs speak English?

Lexi

Who is more powerful;king or queen?

Scarlet

What is the longest word ever and what does it mean?

Jen

What was the first language?

Zoe

Why does your belly rumble

Natalie

Why do schools not change much? But the world has and is changing so rapidly?

Emma

how do t-rex catch their food?

Aimee

How can we live on Mars?

Liam

Why do pitbulls have musels instead of other dogs

Javier

How did the earth form?

Nandini

nawhals

maria

what is a marine layer

Jackie

Are we going to run out of water soon?

OLUWATOYIN

why are videogames so addicting?

Cristengrace
View all questions in the Wonder Bank
Top Nominated Wonder Questions:
+10623

Do girls remember their dreams more often than boys and if yes, why?

Lance — Louisville, KY

+9529

how was water created

Chiamaka

+7503

Can you mix water and air completly?

AL

+58

Why do Olympians bite their medals?

Sam — Glen Allen, VA

+46

How does weeds grow?

Rafiul — Sydney, AL

+38

How many animals are on earth?

helaina — clearwater, FL
Vote for wonder nominees
Spread the Joy of Wonder
GET YOUR WONDER DAILY
Subscribe to Wonderopolis and receive the Wonder of the Day® via email
Share with the World
Tell everybody about Wonderopolis and its wonders.
Wonderopolis Widget
Interested in sharing Wonderopolis® every day? Want to add a little wonder to your website? Help spread the wonder of families learning together.
Add widget
Wonderopolis Partners & Sponsors